Mystic
VenusFlyTrap
Level 85 Mystic 50/50 pvp/pve, support and damage
Fire Ball 1
Wound Care 1
Mana Amulet 1
Flame Arrow 10
First Aid 1
Dura Amulet 10
Burning Hell 10
Fire Rain 10
Healing Totem 10
Summon Healing Fairy 10
Bloodlust 10
Hellfire 9
Protection Totem 9
Fire Fairy's Protection 10
DNA – this character has 45 DNA points
Strengthened Dura Amulet 10
Extended Hellfire 8
Bloodlust Intensification 10
Extended Healing Fairy 4
Strengthened Healing Totem 1
Extended Protection Totem 6
Strengthened Protection Totem 1
Swift Summon Healing Fairy 5
(Anonymous)
Mystic 82 (Pve/Raid)
Fire Ball 10
Mana Amulet 1
Flame Arrow 10
Dura Amulet 10
Fire Rain 10
Healing Totem 10
Summon Healing Fairy 10
Bloodlust 10
Hellfire 8
Protection Totem 8
Fire Fairy's Protection 10
Burning Mind 1 – waste of time [2]
DNA – this character has 50 DNA pts
Strengthened Dura Amulet 10
Swift Fire Rain 5
Extended Hellfire 8
Bloodlust Intensification 10
Extended Healing Totem 10
Extended Protection Totem 2
Strengthened Protection Totem 5
Warlord
MrTart
Power Attack - LVL 1 (It is only a filler for Titan's Strike and Slayer.)
Fighting Will - LVL 0 (The skill is useless and SP shouldn't be wasted on it.)
Titan's Strike - LVL 4 (It's better than Power Attack and is a 1v1 skill which comes in handy if you're fighting mobs and do not wish to pull more than one at a time as most other skills are AoE.)
Final Wrath - LVL 1 (The skill isn't all that necessary but the stats added the first time is like an bonus.)
Armor Breaker - LVL 10 (It lowers the SRPD and makes for a great combination with Shout of Ferocious Tiger.)
Charge - LVL 10 (This is our first stun, it is quite popular in the warrior section and makes for a great entrance into combat.)
Courage - LVL 10 (Although this skill is not entirely necessary it does increase the PD which you may find useful.)
Slayer - LVL 10 (This is our very first AoE, it is also one of our strongest attacks, most certainly a valuable skill.)
WARLORD CLASS:
Lateral Slash - LVL 10 (The reason i maxed this one is due to the fact that it's an spammable AoE, you'll notice that once we get to the DNA.)
Bugle of Carnage - LVL 10 (This is an AoE buff, one of the reasons WLs are so popular.)
Bear-like Stamina - LVL 10 (Why do you think people like WLs? Cause we deal a lot of dmg? No! Cause we're balanced? No! Cause of our motherf*cking awesome HP buffs!!)
Full Swing Slash - LVL 3 (AoE, good skill, but since we MAXED Lateral Slash this one doesn't need that many SP in it.)
Feast of Blood - LVL 5 (Yet another AoE, pulls hostility towards you, so if you plan on tanking something as a WL this is your skill.)
Shout of Ferocious Tiger - LVL 9 (AoE debuff, lowers the SRPD, as mentioned earlier, great in combination with Armor Breaker.)
Land Tremor - LVL 6 (This is your second stun, it's also AoE and if you manage to combine it with Charge you make for an deadly opponent.)
Overbearing Clamor - LVL 2 (This skill is excellent for PvP as it decreases the movement speed and removes the magic skills for a certain amount of time, so if you fight several mages at once, this is your weapon of use. AoE.)
DNA:
Potens Dash - LVL 1 (You can use Charge more often, useful if you wish to take down opponents who try to escape.)
Bear-like Stamina Intensification - LVL 10 (As said this is what makes WLs so wanted.)
Potens Lateral Slash - LVL 5 (See what i mean about spammable skill?)
Strengthened Shout of Ferocious Tiger - LVL 9 (Makes this skill even more deadly. Worth it.)
Oh, and following this build you will have one SP left for free use.
SRPD = Short Range Physical Defense
SP = Skill Point(s)
AoE = Area of Damage
Hello!
once again i post for more. this is my mystic's build(special thanks to honoo)
SKILLS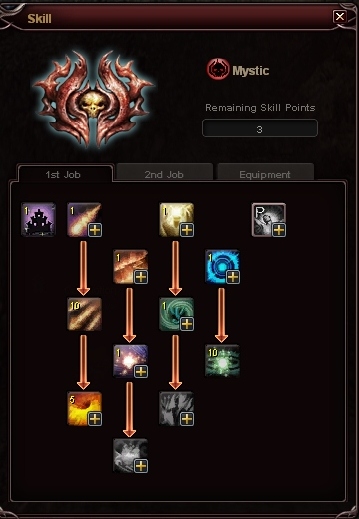 DNA
What my skillbar would look like.
any questions about it? leave me a message through forums or better? ingame pm me on Commotion/abichan

Sentiment




Posts

: 7


Join date

: 2012-04-23


Age

: 27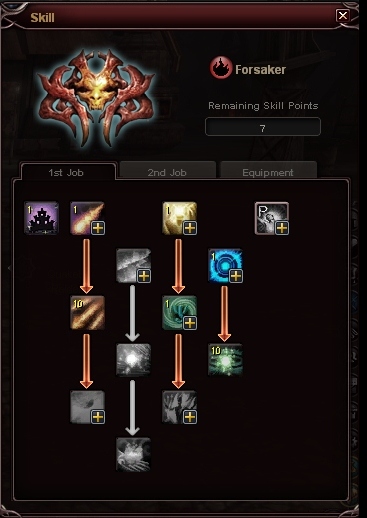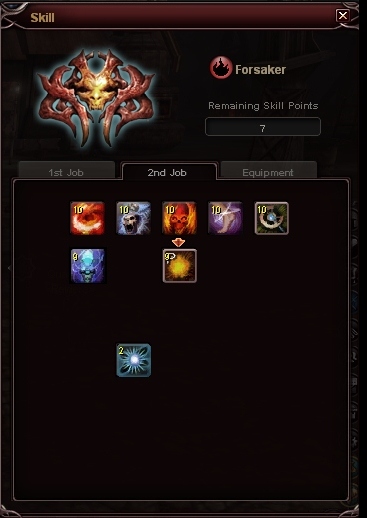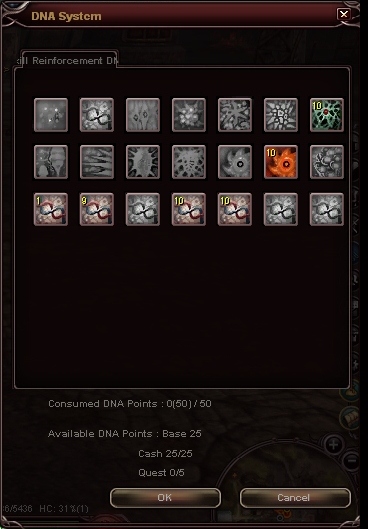 (dont mind my emotes)
well i tried out saker build i lack 5dna pts but this is for pve/semi pvp i suppose w/ a proper tank since PC wasnt dna'd too
pm ingame if need any help

Sentiment




Posts

: 7


Join date

: 2012-04-23


Age

: 27



Similar topics
---
Permissions in this forum:
You
cannot
reply to topics in this forum