Compounding Terrifying Nightmare Cellular Samples
First off you will need to figure out which cell you need.

***IMPORTANT***
BEFORE CHOOSING YOUR CELL
The chart below was created to help you figure out which cell will best suit your needs. The level of the cell as it is written on the cell BEFORE being compounded IS NOT the same level as it will be AFTER being compounded on about half of the cell sample types. Please refer to this chart and NOT the level listed on clean / un-compounded cells you see in-game.
FINDING YOUR CELL
To acquire the cell you are looking for, check the AH or go hunting (best done with a higher lvl / lower lvl 2 man party usually) in the appropriate spawn location (There is one terrifying mob spawn location per mob type, found near that mob type during nightmare hours).
Once you have the cell sample of your choice, you will need some of the basic red colored xeons. The amount and type you will need varies as per quality of cells. Based upon whether the starting cell has magic dmg, phy dmg, def, or crit, you will need a certain number of the same type of red xeons.
CHOOSING YOUR COMPOUND
In addition to the red xeons listed above, which you will need 10 – 50 or so of depending on the quality of cell your are working with, you will need 30-100 of the recipe based red xeons. When you put your uncompounded cell sample in the box of the Compounding NPC, you will see on the right hand column a list of "Recipes," one recipe for each type of basic red xeon in existence other than the four mentioned above. The following is a list (written in no particular order) of the most commonly chosen Recipes, which subsequently makes those red xeons of higher value in the market;
HP
Constitution
Skill Critical Additional Damage
Physical Critical Additional Damage
Property Magic Attack Power [Fire]
Property Magic Attack Power [Elec]
Some others do get used occasionally, though not as often, you of course are welcome to use whatever suits your needs. As with everything to do with forging in this game it's usually best to do compounding, reinforcing and enchanting of these cells during Forge Events.
THE CELLS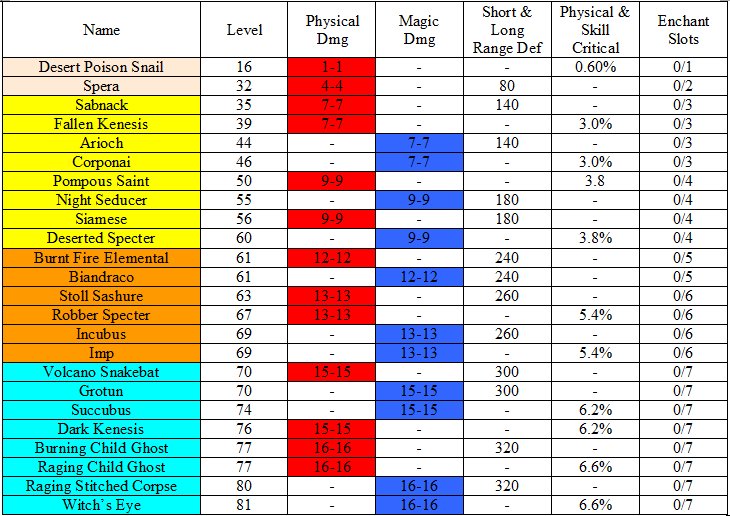 FodderMiser

Admin




Posts

: 11


Join date

: 2012-02-10


Age

: 45


Location

: Washington, USA



Excellent chart Fodder

Thank you very much for your time researching this


Bloodlet

Admin




Posts

: 96


Join date

: 2012-01-20


Age

: 45


Location

: England, South coast



Nice job Fodder....thank you

nicely done but req forums had these:)

KnighTz




Posts

: 1


Join date

: 2012-10-18



yes...im well aware of that...i made another chart specifically because those aren't accurate

FodderMiser

Admin




Posts

: 11


Join date

: 2012-02-10


Age

: 45


Location

: Washington, USA



Similar topics
---
Permissions in this forum:
You
cannot
reply to topics in this forum